The Free City of Bangui
What was the population before the war?
690000
What is the population after the war? (est.)
200300
Who controls most of the city?
Unknown
What forces control parts of the city?
UN,LRA
Is the government stable?
Unstable
Is the city Friendly to the PCs?
Yes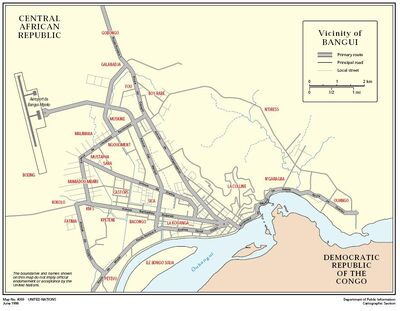 The PCs make it to Bangui, only to discover the city being controlled by non-UN forces. Are they friendly?
Bangui International Airport
Edit
The Bangui International Airport was being used as the headquarters of the UN/EU mission to Central Africa until an LRA supplied dirty bomb was detonated at the front gate.
Transport
Edit
Bangui hosts a river port and is served by Bangui M'Poko International Airport; the former handles the overwhelming majority of the country's international trade. River ferries sail to Brazzaville and Zongo. Roads connect the city to Cameroon, Chad, and Sudan.