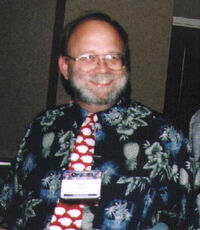 Frank Chadwick was the lead and system designer for Twilight:2000.
Chadwick, a founding partner in Game Designers' Workshop, established his reputation as a designer producing complex, detailed wargames in the 1970's. At a time when SPI (Simulations Publiscation, Inc.) dominated the market for military simulations, Chadwick did them one better ... designing games that were more complex, more detailed, and better researched. His design talent shaped the massive Europa Series, reproducing World War II at the division level and below. His fascination with historical warfare led him to design games on topics no one had previously explored: Torgau, Crimea, and Guilford Courthouse. He pioneered roleplaying with the innovative En Garde! He dominated modern military wargames with his Assault and Third World War game systems.
In 1991, he authored the bestselling Desert Shield Fact Book, and later, the Gulf War Fact Book. Frank has designed over 60 published historical games, and has received over 30 awards for excellence in game design. He has appeared as a military commentator on CNN. He is a founder and past president of the Game Manufacturers Association (GAMA). In 1989, he was inducted into the Adventure Gaming Hall of Fame in 1989.